Hol Chan Marine Reserve
AdventureAttractionsToursWater ActivitiesWater Sports
Hol chan marine reserve

Only four miles south of San Pedro, or a bit further north from Caye Caulker, this is the most popular dive site in the country. Without doubt, the main attraction is the cut in the reef whose Mayan name, Hol Chan means 'little cut'. It's a channel 30 feet deep, with steep coral-lined walls. Fish seem to have got wise to the fact that fishing is prohibited here, and congregate in huge numbers. Hidden in the coral crevices there are Moray Eels. With their gleaming white teeth and gaping jaws, these awesome predators are not to be toyed with. Some of the biggest fish around are the Black Groupers, now reaching fairly impressive proportions after being protected from fishermen for several years. They are there all year except spawning time between December and February. As well as the fish (and there's over 500 species of them) there's the crustaceans, from tiny Red- banded Coral Shrimp to the sizeable Spiny Lobster. It's actually a crayfish, but since it's heaviiy fished everywhere else in Belize, this is your best chance of seeing what you might be eating later in the day.

The Cut is of course, also full of coral. It's quite an exposed site so only species adapted to strong currents and waves can survive. The toughest of all is the Elkhorn Coral, with is thick limestone branches lined to resist the buffeting. Slightly deeper, other types become more common. Staghorn Coral is next, then Finger and Star Coral. Biggest of all is the boulder-size Brain Coral, with its grooves carefully aligned to funnel away any sediment that could smoother its polyps. These are the individual animals which make up the many coral forms, depending on the neighbourhood arrangement.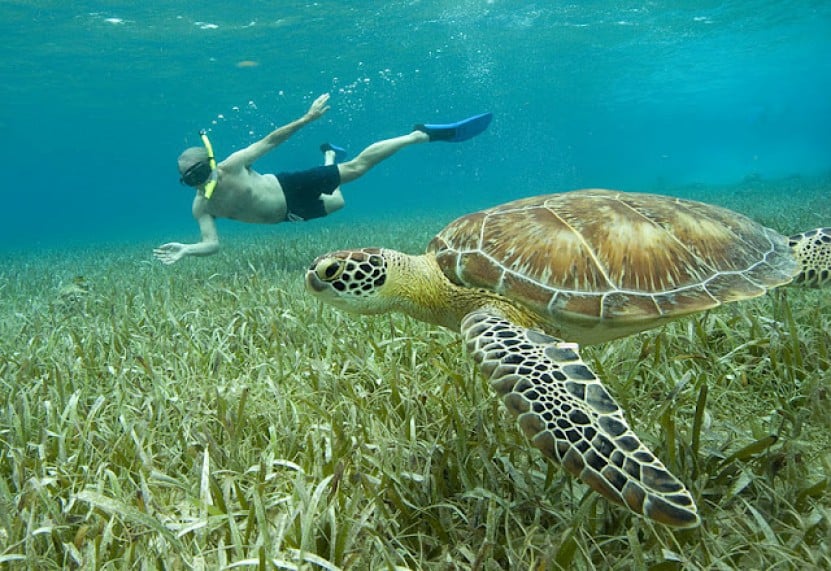 Diversity of Wildlife



The other main feature of Hol Chan is the Cat's Eye, a crescentshaped sink hole often surrounded by big schools of silvery Spade Fish.

Finally, just south of the present-day reserve (although likely to be included in the future) is Shark Ray Alley. It's for those of you with that weird fixation about sharks. The Nurse Shark looks like the real jaws nightmare, but its a docile beast most likely to be seen settled on sandy patches between coral heads, quietly resting. Both the Sharks and the Southern Sting Ray were originally drawn to the area because fishermen cleaned fish and conch here.

One last important fact about Hol Chan is that it protects a complete transition of marine habitats, from mangrove cayes in the west, across seagrass beds to the reef out to the deep blue sea in the east. Because they are physically so different, it took scientists a long time to recognise that these were all ecologically linked. While one habitat might be used by an adult fish, its larvae usually depend on a different type for their livelihood. The arrangement stops young and old having to compete for the same food, and it's just one example of the complex interactions going on.

GETTING THERE
The reserve is easily reached from either San Pedro or Caye Caulker, with operators running twice daily snorkel and dive trips. Excursions in glass-bottom boats are also run from San Pedro. Operators also run dive tours from Belize City. Hol Chan can be comfortably visited in half a day.

WHEN TO GO
The water is generally calmer with better visibility around May, but anytime is great!

VISITOR FACILITIES
Off-site there is a reserve office and visitor center right in the center of San Pedro, run by the Fisheries Department, which provides all relevant information and has a range of booklets and souvenirs for sale. In the reserve itself, boats moor at designated buoys and reserve staff patrol the area. The reserve is zoned for different activities, and there is a general entrance fee of $5.00. A short reserve booklet is available from the office. At Hol Chan itself, there is a big red marker, and you are strongly advised not to swim beyond this because the tides through the cut are very strong. The other word of caution is for divers to resist the temptation of exploring any caves. It is very dangerous and not to be attempted without an experienced qualified guide. Permission is also needed from the reserve office. Shark Ray Alley is only about 12 feet deep, so scuba is hardly necessary there, and while guides like to feed the fish for their visitors, this is not a practice to be encouraged.

ESTABLISHMENT HISTORY
Following recommendations by FAO (1978), lobbying by sections of the local community and with the support of the NYZS, the site was designated in July 1987 through the Fisheries (Hol Chan Area Marine Reserve) Order (SI 57). Its regulations were then enacted in December 1988 (SI 107). Subsequently, these were amended in October 1989 (SI 113).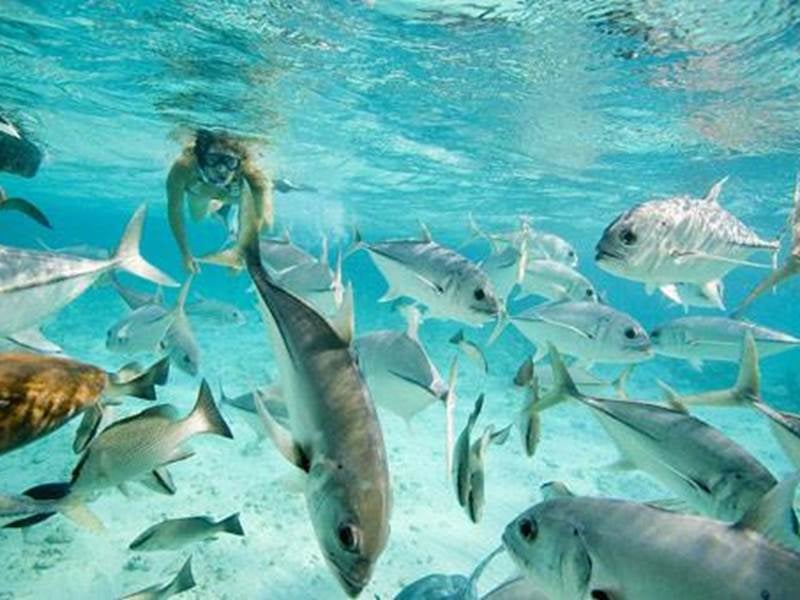 School of Fish



CURRENT AREA
Calculation of the reserve's area is straightforward because it is defined by coordinates for each zone. The estimated area in the SI gives the reserve's size as approximately 2757 acres. When plotted on GIS the result is 2758 acres.

JUSTIFICATION
Designated on account of its diverse fish populations coral reef, unique Hol Chan channel, sea grass beds, mangroves, abundant fishery resources, and the Boca Ciega Blue Hole. In addition, fishing and diving activities needed regulation, and some of the local population wanted a reserve to harness the eco-tourism market

HABITATS
Reef, seagrass beds, and mangroves

ZOOGEOGRAPHICAL AFFINITIES
Yucatan and Caribbean.

MARINE REGION
Outer Platform Division of the Ambergris Region.

WILDLIFE
6 marine communities are identified. In the forereef common soft corals include Gorgonia ventalina, Plexurella and Pseudopterogorgia species tending to Montastrea species, Porites astreoides, verongia, and xestosponia out towards the sea. On the reef crest, common species are Acropora palmata, P. porites, and Agarcia agaricites overlying dead A. palmata and M. annularis. The outer-reef crest has abundant A. palmata. In the back reef area there are patch reefs with P asteroides and Diploria species. In the Hol Chan channel itself, the walls are of dead A. palmata sporadically covered with Siderastrea, Agaricia, Diplora, and Gorgonia species with thick A. palmata on the upper 2 yards. Finally, in the lagoon area, there is mostly seagrass; Thalassia and Syringodium to 50% cover. Sponges of Neopetrosia and Ircinia genera, and corals of Porites and Siderastrea genera am abundant southeast of Boca Chica Caye. Fauna include the Caribbean Manatee, Queen Conch, and Spiny Lobster. The total biodiversity and abundance in the reserve surpasses that of any other reef in Belize. The terrestrial part of the reserve comprises mangroves, described as buttonwood, white mangrove, black mangrove, and red mangrove with Thalassia and Syringodium seagrasses heavily covering silt/sand channels in the mangroves. Fish here include Haemulonscuirus, H. flavolineatum, H. plumieri, Lutjanus apodus, L. griseus, 0rolophus jamaicensis, Pomacanthus paru, P. arcuatus, Chaetodon sriatus, C. capistratus. Invertebrate Ecteinascidia turbinata are abundant.

LOCAL POPULATION
The reserve has no permanent resident population. San Pedro (economy based on commercial fishing and tourism, mainly involving drying and sports fishing) is roughly 4 miles to the north. It contains the majority of the Caye's population. Between San Pedro and the reserve, there is a string of holiday/retirement homes and small tourist resorts.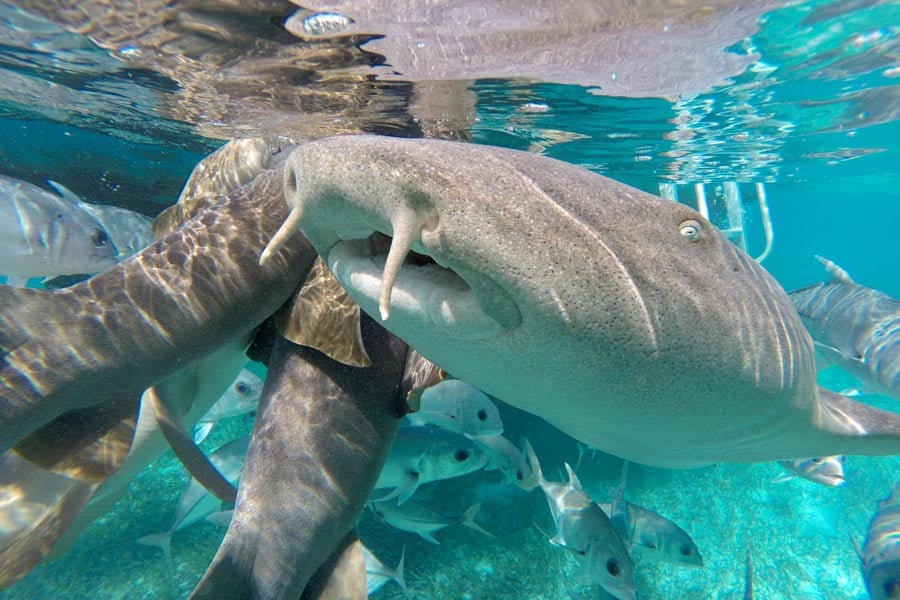 Sharks



PHYSICAL FEATURES & CLIMATE
The site covers a succession of environments from mangrove cayes, across lagoons, the Hol Chan Channel, eastward over the back-reef to the reef crest, and then for a further 0.75 miles out past the fore reef towards the deep sea. The Hol Chart Channel differs from other channels off Ambergris because of its greater depth (33 ft) and nearly vertical faces partially covered with live corals and interspersed with caverns. The reserve receives an average of 52 inches of rainfall a year The average July - August temperature of surface waters is 29C. Northwest winds are dominant, blowing at speeds between 5 - 15 knots. Intervals between hurricanes (winds greater than 65 knots, high tides, storm surges and heavy rain) vary from between 3 to 6 years. Topography varies from 3 ft above to 18 ft below sea level. The sediments throughout the reserve consist primarily of carbonate sands of varying sizes. Inside the reef, currents always flow in a southerly direction, while in the fore reef flows may also be southeast corresponding to prevailing onshore winds, or may apparently be absent or southwesterly. The strongest currents are in the channel. itself up to an estimated. 7 knots on the stronger outward tide (with significant safety implications for divers and swimmers). With westerly winds, currents can flow out from the back lagoon towards the reef with drastic increases in suspended sediment This is the first major opening for water exchange from Chetumal Bay, whose water quality is of increasing concern, as it receives wastes from agricultural processing and sewage disposal.

Off-site, there is a reserve office/visitor center in San Pedro. On site, 2 boats carry out safety and other patrols, and mooring buoys are installed. Approximately 30000 tourists and local visitors (96% foreign tourists) annually, mainly to Zone A for snorkeling (76%) and diving (24%) on the reef. 77% of visits are from San Pedro and 23% from Caye Caulker. The Hol Chan Channel is the most visited part of the reserve. The leeward channel opening contains the boat moorings. A variety of trips to the reserve are run by tour operators. There is a $5 visitor fee payable to enter the reserve.

CULTURAL FEATURES
There is a wreck at the north end of the Cut.

LET'S DIVE THE HOL CHAN MARINE PARK
The Hol Chan Marine Park (Hol Chan is Mayan for Little Channel) is situated north of Caye Caulker. Declared the first marine park in the entire country of Belize, this area has been zoning a protected area. Due to its protected status, what was once a depleted fishing area has now been allowed to re-generate, producing to divers and snorkelers alike quite a colorful and varied fish spectacle.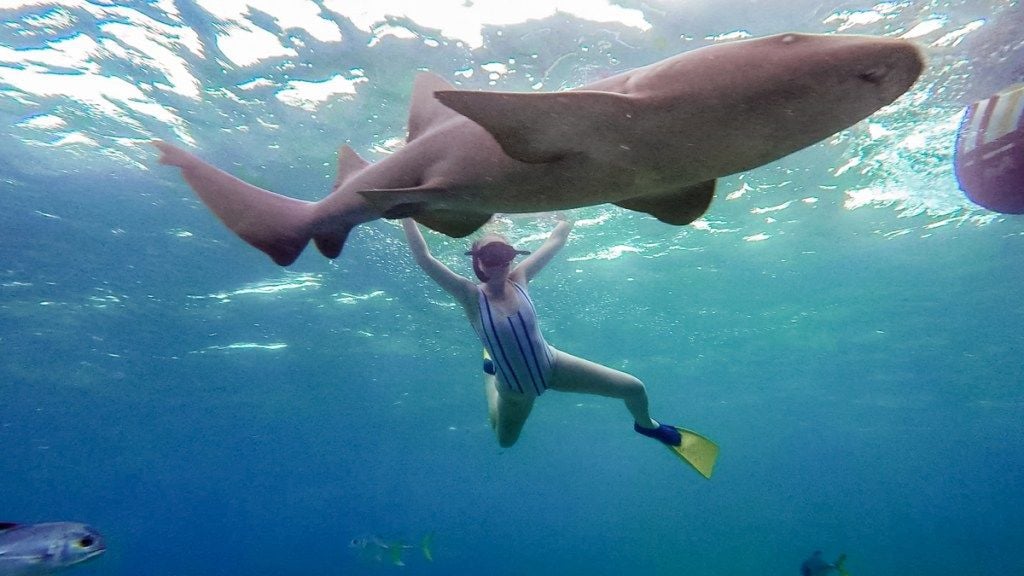 Dive with Sharks



The Hol Chan trip consists of two dives, both done outside the barrier reef area. Bottom composition in this area is mainly of coral canyons extending out like long fingers from the barrier reef. I prefer to refer to the coral composition in this area as 'hard' corals, as opposed to the 'softer' corals such as sponges and gorgonians found along the walls on the outer atolls. This canyon phenomenon is caused by the motion of the water against the reef. On both dives today, you will note an abundance of HUGE fish. The Hol Chan dive is teeming with many of the fish overflow of the inside park and is colorful and highly interesting. It is not unusual in this area to spot schools of rays floating in the distance, or even schools of barracudas. The fish are pretty friendly and hand around out of curiosity. In fact, some are downright extroverts and may come right up to your mask to view you. Some of the fish are so friendly, they will stay around to be petted or may even come up and 'kiss' your mask.
Surface interval between dives is done in the 'inside' area of the park where calmer waters prevail. Have something to eat (or drink). Plunge into the shallow water and snorkel off for a bit and explor the awesome wonders of the shallow waters before the next dive.

The highlight of this dive trip to me, however, is the Wreck dive. The 'wreck' is really a sunken barge about 30 feet long located in approximately 80 feet of water. The main feature of this dive, though, is not necessarily the 'wreck' but the fact that on this dive you are GUARANTEED to see sharks. A colony of curious nurse sharks make this wreck their home, as well as a friendly green moray that lives in the front part of the barge. Pet the eel if you dare, but remember that these are still creatures of the wild. Several sharks which I refer to as 'grandpa-sized' sharks will circle you. Enjoy them. There are not many places in the world where this will happen.

Since they only eat two divers a week, check before you book this trip. Okay, that was a joke. These are probably some of the friendliest sharks on planet earth. They have become accustomed to divers in the area and have become just as curious about you as you are about them. Please respect the wildlife. You are on their territory. Enjoy and bask in the pleasure and enjoyment of being on the same level with these awesome creatures. Bottom time 40 minutes at 70 feet.
Budget
Best For Whom
Families With Teenagers

For Her

For Him

Couples

Groups

Students
Best For What
Beachfront

Adrenaline

Adventure

Nature

Outdoor Area