Copal Tree Lodge
Boutique hotels Hotels Luxury Hotels Spa Hotels Caribbean Fusion Seafood Traditional Wedding Planners Wedding Venues Spas
Discover Luxury in the heart of the Rainforest.
Best Resorts in Belize
Set on a 3,000-acre
sustainable farm
, surrounded by a 15,000-acre rainforest preserve, and comprised of twelve privately sited, low-impact, high-pleasure suites,
Copal Tree Lodge
, a
Muy'Ono Resort
is, quite simply, one of the leading
eco-hotels
on the planet. That's no small distinction, and it's reason enough to visit, but
Copal Tree Lodge
is also a regular entry on the bucket list of
travel-savvy
gourmands,
wildlife enthusiasts
, birders.
Given the setting, perhaps it's no surprise that the suites offer plenty of
privacy
. They're scattered about a hill that overlooks the
rainforest
in all directions, and if you let your eye follow the winding
Rio Grande downstream
, you'll find the
Caribbean
in the distance. Private, screened-in verandas jut out into the jungle canopy, so while the eagerer
wildlife
chasers are traipsing around with an expert guide, those inclined to count toucans and monkeys from the comfort of a swaying hammock will do just as well.
In fact there's any number of vantage points for admiring the non-human neighbors (the human ones are out of sight), not least the bathrooms, whose floor-to-ceiling windows peer right into the jungle. It's very much worth leaving the
suite
, though. There's a
spa
, a
pool
, a sun deck and a smattering of inviting social spaces for comparing
wildlife sightings
, but the real attractions are farther afield.
Expert fly-fishing
guides are on hand to take anglers out to the lagoons, rivers and world-famous salt flats, with their untouched populations of tarpon, permit and bonefish.
Expert birding
guides are there to lead birders through a network of trails with strategically placed lookouts and scopes. PADI-certified instructors and dive-masters will show divers the best of the world's second-largest
barrier reef
, including
whale shark
encounters between March and June. And on and on it goes —
mountain biking
,
snorkeling
,
jungle canoeing
,
kayaking
.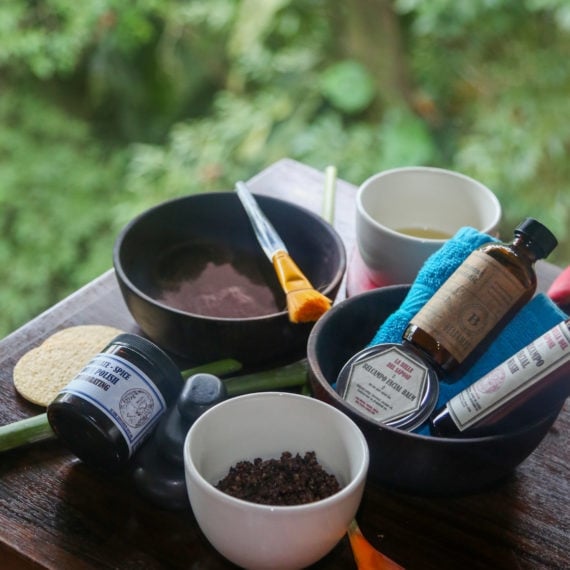 Whatever you choose to do, you'll be very well fed. Start with the coffee. After coffee, it's bacon or sausage made from the farm's own humanely raised hogs, smoked over cinnamon and allspice cuttings from the
surrounding jungle
, accompanied by fruits grown on site and rare heritage veggies. And that's just breakfast.
For some sense of Copal Tree Lodge's dedication to the
culinary experience
, consider this: they employ a resident forager, who sometimes spends days hacking through the jungle in search of a particular ingredient, as well as a
chef
who gathers his own conch for the ceviche, captures his own lobsters for the tacos, and spears his own lion fish, which you can enjoy grilled at lunch during a day of
snorkeling
. And, this is all just the beginning.
Weddings
Copal Tree Lodge
is the picture-perfect agritourism jungle lodge for intimate
destination weddings
. With many venue and reception options to choose from for your special day, all with beautiful jungle views. Copal Tree Lodge can host
weddings
of up to 75 guests with the lodge sleeping up to 40 adults.
At
Copal Tree Lodge
, you can also celebrate your
honeymoon
. While honeymooning is a specialty here, this package is also perfect for
anniversaries
, celebrations, or "just because we're finally on vacation."
Spa
The Jungle Spa
at Copal Tree Lodge, a Muy'Ono resort in Southern Belize, is a luxurious experience you can't get anywhere else. Complete with panoramic
jungle views
, this is the perfect place to relax and unwind as you're pampered by the Lodge's unparalleled massage specialists.
Choose from a variety of
treatments
including mud wraps, sugar scrubs, facials, hot stone massages, pedicures, manicures, and more to customize your perfect
spa experience
. For those seeking the best the
spa
has to offer, the Signature Treatment is a head-to-toe rejuvenation of the mind, body, and spirit that allows guests to enjoy their session to its fullest.
Budget
Best For Whom
Business Travellers

Expats

Families With Teenagers

Families With Children

For Her

For Him

Couples

Backpackers

Groups
Best For What
A Bit of Romance

Alfresco Dining

Fine Dining

A View To Die For

Resort

The Local Experience

Lively Atmosphere

Luxury

Adventure

Nature

Wildlife

Relaxation

Cultural Experience

Green

Spa

Outdoor Area

Luxury Hotels