Crooked Tree Wildlife Sanctuary
AttractionsOutdoor ActivitiesParks and GardensTours
Crooked Tree Wildlife Sanctuary (CTWS) contains a mosaic of wetland and terrestrial habitats, which make it one of the best birding destinations in Belize.
Crooked Tree Wildlife Sanctuary

Crooked Tree Wildlife Sanctuary (CTWS) contains a mosaic of wetland and terrestrial habitats, which make it one of the best birding destinations in Belize. From the commonly seen Northern Jacana to the elusive Sungrebe, Crooked Tree offers an enjoyable experience for birders of any skill level. With 16,400 acres of lagoons, creeks, logwood swamps, broadleaf forest and pine savanna, you will be sure to see a wide array of wildlife. The Sanctuary protects globally endangered species including the Central American River Turtle (locally known as Hicatee), Mexican Black Howler Monkey, and Yellow-headed Parrot.

Crooked Tree is recognized as a Wetland of International Importance, especially as waterfowl habitat, under the Ramsar Convention on Wetlands. During Belize's dry season many resident and migratory birds find refuge in the lagoons. Each year, on February 2nd, the Belize Audubon Society celebrates World Wetlands Day in the buffer communities of CTWS. A key to the conservation success of this globally significant wetland, is local community involvement.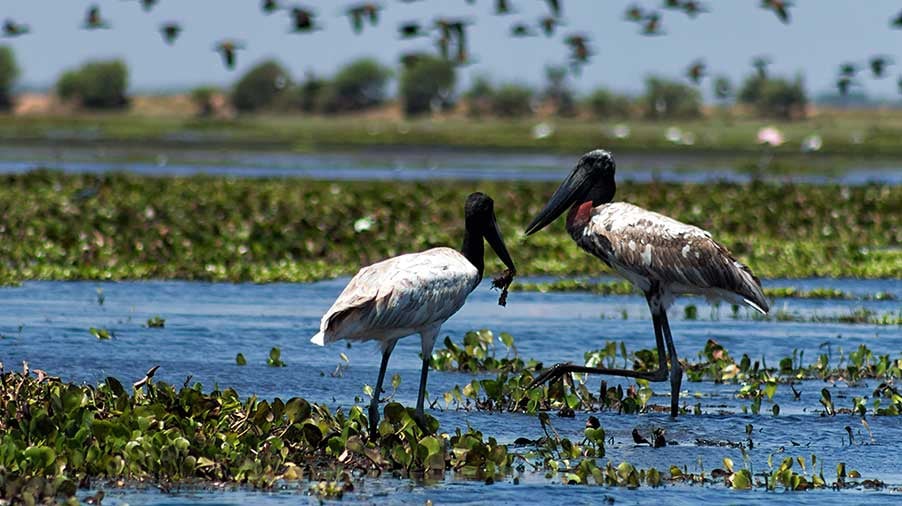 Water fowl



The Jabiru stork is Crooked Tree's most famous resident. Belize has the largest nesting population of these great birds in all of Central America. Jabiru storks arrive in November to nest in the lowland pine savannas. Two pairs of Jabiru storks are known to nest within the Sanctuary. After the young fledge, in April and May, the birds from the northern and central parts of Belize congregate at Crooked Tree and Mexico Lagoons. When the rains come, the birds leave to return again the following November.

Crooked Tree Village offers visitors a unique Belizean experience. Established around 1750 during the logwood period, Crooked Tree is perhaps the earliest inland European settlement in Belize. This island, in the middle of Crooked Tree Lagoon, is famous for locally grown and processed cashews. The Cashew Festival in May celebrates the many products of the cashew: stewed cashews, wines, jams, syrup, cookies, cake, fudge and of course cashew nuts. Festival go-ers also enjoy live music, dancing, games, storytelling, and friendly people. Accommodations are available for overnight visits and local guides can arrange walking, boating, or horseback-riding tours around Crooked Tree Village.

The Mayas lived in Crooked Tree several thousand years ago as is evidenced by the Chau Hiix Archaeological Site at the south-western corner of Western Lagoon. The site has a central pyramid that rises almost 75 feet above the flat lagoon landscape. Excavations of tombs have turned up beads, containers, blades and ornamental objects that are providing a glimpse into everyday life in one of the last inhabited Mayan settlements. The villagers of Crooked Tree informed the public about the presence of Chau Hiix in 1990. Dr. Anne Pyburn of Indiana University has been conducting research at this site since 1993. Dr. Pyburn called the site Chau Hiix, Mayan for jaguarundi, which inhabit the area. The site can be accessed by boat or canoe.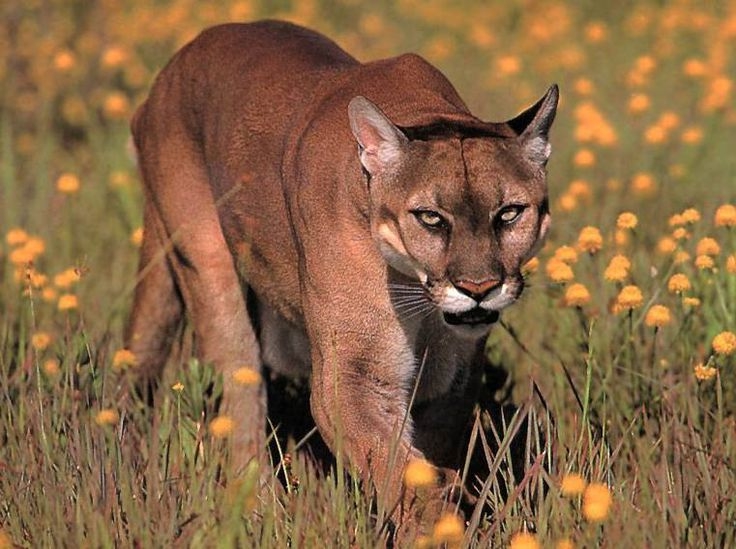 Puma at the Crooked Tree Wildlife Sanctuary



The History of Crooked Tree Wildlife Sanctuary
In the years before the establishment of the Crooked Tree Wildlife Sanctuary, the area attracted sportsmen in pursuit of legendary tarpon, trophy jaguars, and skies filled with waterfowl. Villagers welcomed the idea of ​​a sanctuary as a way to limit the presence of hunters and to develop an ecotourism industry in Crooked Tree.

In 1971 Alexander Sprunt IV, Head of the U.S. National Audubon Society Field Office, along with Roland C. Clement and Mrs. Bradley Fisk, did an aerial survey of nesting sites for wading birds all the way from Florida along the coast of Mexico to Belize. Along with the Belize Audubon Society Vice President Dora Weyer, they visited Crooked Tree Lagoon in which they were particularly interested in because of its many water birds. As per the request of BAS and with the approval of the Government of Belize, Dr. Sprunt came back in March of 1972 to assess Crooked Tree and make recommendations about its creation as a wading bird reserve. In July I submitted his report and proposal for the establishment of a Natural Area Reserve at Crooked Tree Lagoon.

Jabiru stork protection was the Belize Audubon Society's first advocacy project. In 1973 the Jabiru stork was added to Belize's list of protected animals. Crooked Tree Wildlife Sanctuary, the first Wildlife Sanctuary declared by the Government of Belize, was gazetted on December 8, 1984

On August 22, 1998, Crooked Tree Wildlife Sanctuary was declared Belize's first Ramsar site based on the wetland's significance, especially as waterfowl habitat.

Getting there
Crooked Tree Wildlife Sanctuary is just three miles off the Phillip Goldson Highway (Formerly Northern Highway). The junction is located about midway between Belize City and Orange Walk; approximately 30 miles from either direction. Bus services are available (Monday-Saturday) from Belize City to Crooked Tree Village.
Budget
Best For Whom
Families With Teenagers

For Her

For Him

Groups

Students