Lubaantun
Lubaantun is the largest Maya site in Southern Belize
Lubaantun

Lubaantun is the largest Maya site in Southern Belize. It is well known for the unusual style of construction. All structures are made of limestone blocks with no visible mortar binding them together. The strength of each structure lies in every hand-cut stone, which was carefully measured and shaped to fit snugly next to each neighboring block.

Lubantuun is a late Classic ceremonial center dated to 700-900 AD. Over time, the ground on which Lubantuun was built began to subsist and the mortarless blocks began to tumble. Thereafter, the site was given the name-Lubantuun- meaning 'place of the fallen rocks' in the modern Maya language.

Eleven large structures tower above five main plazas and three ball courts. Unlike most other Maya ceremonial sites, the existing structures are solid and have no doorways. Another unique feature not found in other sites around the region is the rounded corners on the structures. Since no corbeled arches exist at the top of these structures, it is believed that perishable materials such as wood and thatch, were used to build superstructures on top of these pyramids.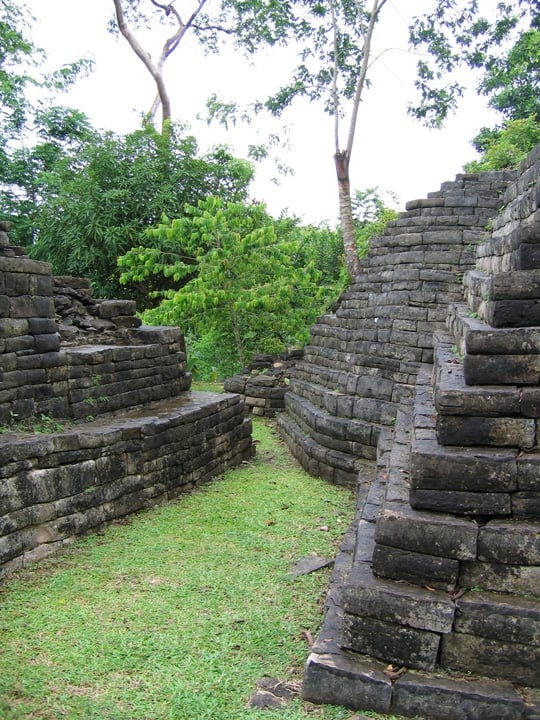 Lubaantun Black Slate



Lubantuun is believed to have been an administrative, religious, political, and commercial center, mainly used for occasional festivals, ball games, and other sacred ceremonies. Although no stele was found here, the site is well-known for its abundance of ceramic whistle figurines. Entrance to the site. A few burial tombs are also present.

The famous yet controversial crystal skull was supposedly discovered in 1926 by Anna Mitchell-Hedges, daughter of archaeologist, F. Mitchell-Hedges, during an expedition on her seventeenth birthday. This perfectly shaped human skull carved from an 8-inch cube of rock crystal is still possessed by Anna who lives in Canada. The origin of the crystal skull remains a mystery.

Lubantuun is situated on a tall ridge above a valley cut by the Columbia River, about 1 1/2 miles from the village of San Pedro Columbia. From the parking lot, a trail runs approximately 70 yards downhill on a clear path to a small bridge over a creek then continues another 40 yards uphill to the visitor center.

The small modern visitor center displays a collection of ceramic figurines, pottery, maps, and other information. The caretakers are local experts on the site having assisted with the excavation and restoration of the site. Ask them for a guided tour-a personal, pleasant and informative two-hour exploration of the site.

Visitors may wander freely about the site. The chance of finding yourself alone among the ancient monuments is common. The serenity and ambience is overwhelming. Massive stone structures are covered with bright green moss, with protruding vines from the tiny crevices. Cool breezes rustle through the huge canopies of the tree tops; birds and insects provide a natural music unique to tropical rainforests.


Best For
Free

Backpackers

Students

Leisure Travellers

Beginners

First-Timers

Adventure

Cultural Experience