Hopkins
Hopkins is a small and quiet town on the central Caribbean Coast.
Hopkins
Hopkins is a small and quiet town on the central Caribbean Coast. It has an extensive and beautiful beach strip, a large freshwater lagoon and a Garifuna population that is dedicated to the preservation of its traditions.

Hopkins has a little more than 1,000 residents. The main road of the town is quite extensive and is located along the coast. The road is ballast and bumpy, so many people choose to travel by bicycle or in a golf cart, which can be rented in the village. Most of the hotels, guest houses and restaurants are located off the coast, with the luxury resorts located on the outskirts of the town.

The main attraction here of course, is the beach. With almost 5 miles (8 km) of sand, visitors can relax under one of the many palm trees along the coast. The beaches adjacent to most hotels are cleaned regularly.

The strong Garifuna cultural presence is what distinguishes Hopkins from other beach towns in Belize. You can listen to the Garifuna drums echoing throughout the town and those who want to try their luck in percussion can participate in private classes or in percussion groups with one of the drum masters; In addition, you can try the Garifuna cuisine at Hopkins. Ask at your hotel which restaurant the local specialty is serving.

The most common tours that leave from Hopkins are snorkeling, diving in the Cayos Aguas del Sur Marine Reserve and kayaking tours through the extensive freshwater lagoon located north of the town where crocodiles, birds and other wildlife live.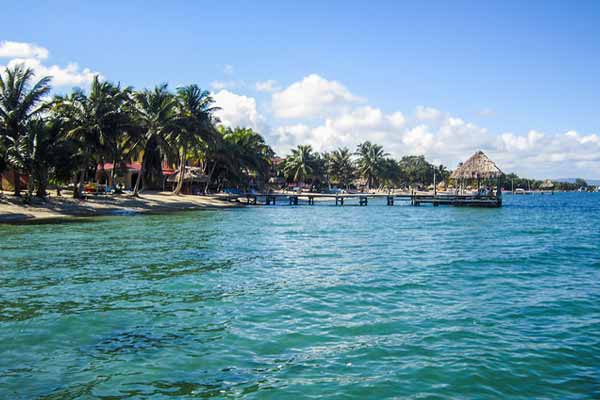 Beachfront, Hopkins



Hopkins is also located near the Mayflower Bocawina National Park, where you can take a canopy tour, swim in the waterfalls, walk through the jungle and explore some modest Mayan ruins. Hopkins is also the nearest beach town of the Cockscomb Basin Wildlife Sanctuary, one of the few places in Central America with a growing population of jaguars; Seeing them is never guaranteed, but those who arrive at dawn will have better luck. Day trips to any of these places are very easy to organize and convenient for those staying in Hopkins.

The easiest way to get to Hopkins is by vehicle. From Belize City, the journey will be approximately 110 miles (180 km) and 2.5 hours by car. Hopkins is not far from the South Highway, the road is in good condition except for the last section. Alternatively, Hopkins can be reached by flying to Dangriga and taking a bus or taxi from there.

Best For
Premium

Mature Travellers

Families With Teenagers

Families With Children

For Her

For Him

All Ages

Couples

Backpackers

Groups

Fine Dining

Beer

Beachfront

Resort

The Local Experience

Lively Atmosphere

Luxury

Nature

Creative & Artistic

Cultural Experience

Luxury Hotels