Scuba Diving Near Belize
The coral reefs and aquatic life of Belize make conditions for scuba diving and snorkeling ideal.
Scuba Diving Near Belize is Best For
Directions to Scuba Diving Near Belize
Scuba Diving Near Belize

The coral reefs and aquatic life of Belize make conditions for scuba diving and snorkeling ideal. The waters off the shores of Belize are home to one of the largest reef formations in the Northern Hemisphere. Belize's extensive coral reefs are second in size only to the Great Barrier Reef of Australia.

The amazing and vibrant coral as well as its diverse aquatic residents form an incredible underwater world just waiting to be explored by curious divers. As one of the most pristine dive destinations in the world, vacationers may find exploring the aquamarine waters of Belize an extremely worthwhile experience. In fact, Belize was voted by 2011 readers of Caribbean Travel Life as the top Caribbean destination for snorkeling and diving.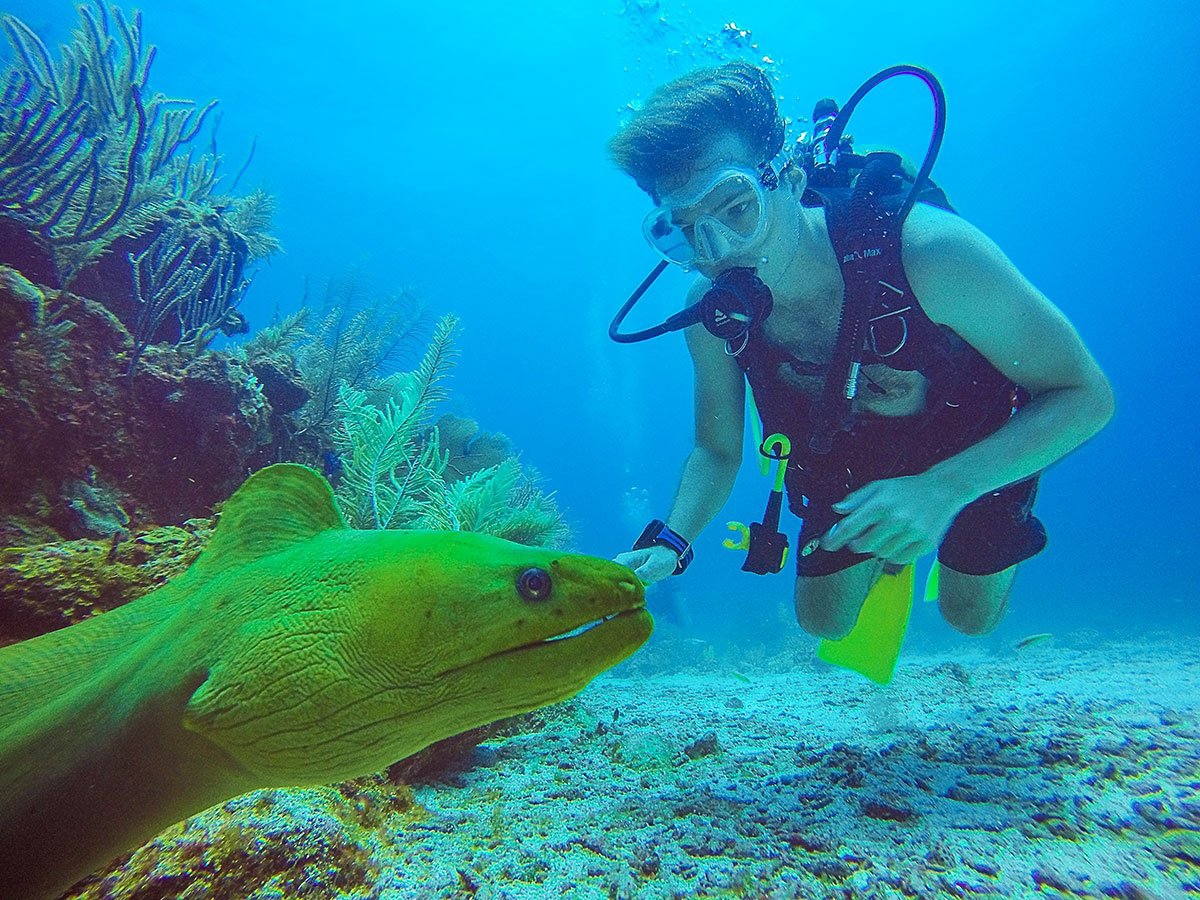 Underwater fauna



Below the Surface

The tropical waters of Belize remain at about 80 degrees Fahrenheit almost year-round, and the ocean waves are calm and mild because the reefs form a protective barrier around the island. The visibility in the crystalline waters of Belize is at least 50 feet or greater and often is 100 feet or more during the drier months of the year, which are from December to April. Sometimes, during the rainy season, storms can stir up the debris and sand from the ocean floor clouding the waters for a short period of time. But for the most part, the conditions underwater are great for diving any time of year. If you're looking for a deal on your aquatic adventures, visit Belize's dive shops during the wetter months because they will often negotiate cheaper rates.

The ocean current outside the protective area of the barrier reef flows in a northernly direction, creating a counter current because the waters between the coast and the reefs of Belize flow south. Breaks in the reef structure restrict the flow of the ocean waters, creating the ideal habitat for a number of large tropical fish and coral. Belize is world-renowned for its spectacular coral reefs, and there are several different types of reefs offshore.

The underwater world of Belize is packed with a multitude of marine life, which feature a stunning array of colorful sea animals including crabs, coral, and fish of all shapes, sizes, and colors. This underwater network is one of the richest ecosystems in the world, full of rare and exotic sea specimens. You can get a good look at these amazing underwater structures and wildlife with a scuba diving excursion.